TEMS - Florida

*TCCC Special Announcement*

Rescue Training, an approved NAEMT Training Site, is approved to offer the NAEMT/CoTCCC - TCCC (Tactical Combat Casualty Care) certification to RTI Tactical Medics completing the EMT-T course - Orlando May 21-25, 2012.
---
Complete Registrations forms and Fax to RTI at 912.692.1338
Orlando - MAY 21-25, 2012
Course Location: Rescue Training Inc
7022 TPC DR, SUITE 200
Orlando, FL 32822 **map**
Sponsor Agency: Kissimmee Police Department - SWAT
FTX Location: Orange County Sheriff's Range (Home of the SWAT Round-up International Competition)

Registration is being accepted for the Orlando, Florida Tactical Medic Course on
May 21-25, 2012
Course Sponsor: This course is sponsored by the Kissimmee Police Department .. KPD SWAT
Open to Public Safety personnel. Registration Deadline: until full: Limit 36
Cost: $895
Registration FORMS (click here)
---
Recommended Hotel: $84
DIRECTIONS TO THE RANGE:
From the Orlando Airport Marriott Hotel, take Semoran Boulevard (S.R. 436) south to the Bee Line Expressway (S.R. 528). Travel East on the Bee Line Expressway to Narcoosee Road Exit (2.5 Miles). Travel South on Narcoossee Road approximately 2.7 miles until you reach Moss Park Road. Turn left (east) on Moss Park Road and travel approximately 1.7 miles. Turn left on Wewahootee Road and travel approx. 2.8 miles. Turn right into the Orange County Sheriff's Range.
14500 Wewahootee Road Orlando, FL 32832
Phone: 407-737-2435 Fax: 407-737-2440
Click here for printable directions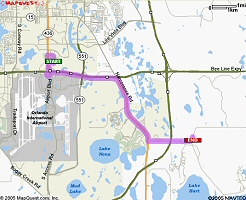 ---
Orlando Highlights
Top Picks from the Orlando Visitor's Guide