What Differentiates Us

Rescue Training provides specialized training to medics working with a public safety agency (police, fire, or EMS), the military, or those working for a division of the US Department of Homeland Security. The Tactical Medical program is an extensive 52 hour course conducted over 5 days. It is taught by actual practicing personnel considered experts in the various skills taught. The staff includes several physicians, tactical police instructors, paramedic and EMS instructors, active tactical medics, and other specialty skill instructors.
A medic is not prepared to become a member of this elite team by completing the DOT National Standard Curriculum for EMTs and Paramedics.

Course Information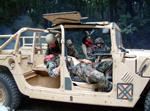 Some are called SWAT Teams. Others are referred to as Special Response Teams. Some prefer being called Emergency Tactical Response units. By any name, they are the tactical units summoned to perform some of Law Enforcement's most dangerous jobs.
Law Enforcement Tactical Units are made up of some of the most highly skilled, trained, experienced, and both physically and mentally fit law enforcement personnel in the nation. These guys continuously train, are always ready to deal with the worst of the worst situations, and accomplish missions that are of the most dangerous and where the possibility of injuries are high.
Regardless of being either a federal SWAT unit or a local Police Emergency Response Team, these teams are made up of the most professional, dedicated and committed public safety personnel in the world.
Becoming a member of this "Tactical Medic" team requires the medic to have the same level of professionalism, dedication and commitment as well as being trained and equipped with the special skills necessary to support these law enforcement teams. Tactical medicine is nothing like routine EMS. Specialized training is required.
COURSE OBJECTIVE: The primary purpose and goals of the Tactical Medic program are to provide the medic with four basic skills:
The skills to operate in the tactical environment.



The skills to perform a basic medical intelligence assessment.


The skills to minimize mortality and morbidity of personnel working in the tactical environment.




The skills to maintain operational capabilities of tactical units.
HOME | TEMS Info | ABOUT US | Docs / Downloads | Contact